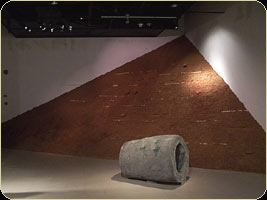 Khen Krok Khuen Khao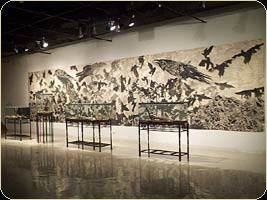 Tee Ngoo Hai Ga Gin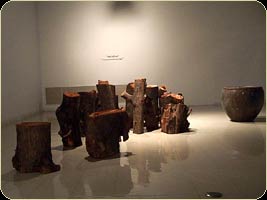 Tak Nam Rod Hua Taw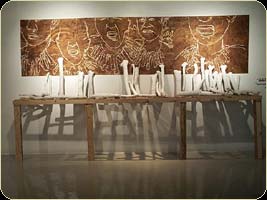 Nua Mai Dai Gin, Nang Mai Dai Rong, Au Kradoog Kwaen Kaw
Viewers are carried to the next three pieces which are the exhibition highlights. There is a huge sculpture called Khen Krok Khuen Khao (Pushing the mortar up the hill), Tee Ngoo Hai Ga Gin (Beating the snake to the feed the crow)-a wood-block installation, and Tak Nam Rod Hua Taw (Watering a stump)-an interactive installation.

The first piece is a hill-like wooden structure with a big mortar next to it. The second is a giant wall-sized black-and-white woodblock featuring the image of a murder of crows. In front are four transparent boxes with real snakes inside. The third comprises a pile of wooden stumps in different sizes and heights, with a ceramic jar nearby. The viewers are invited to pour water from the jar over the stumps.
Near the exit is the final piece, Nua Mai Dai Gin, Nang Mai Dai Rong, Au Kradoog Kwaen Kaw (No meat to be eaten, no skin to be sat upon, only a bone to be hung around the neck), comprising many hanging bone-like objects, shadows of bones, and a big woodblock in the image of a human skeleton. The meaning of the proverb is that mistaken actions-despite good intentions-can tarnish the doers.

Although these five pieces seemingly affirm the typical meaning of the five related proverbs, the artist's notion is to the contrary.
Some Thai proverbs, especially those represented by the last four works, aim to teach Thais to refrain from unethical practices, and not to take any unnecessary risks. But today, Thais need to change their mindsets, says the artist. Without taking risks, can the country survive and overcome current problems?On the technical side, all five installation pieces in this show do not follow the typical process of having a clear preconfiguration sketched on paper. Rather, the rough sketches are in his head, and many more elements are later added during the creative process.
For the visual art practitioner keen on solving unexpected problems like Prawat, art is a matter of process. The more sophisticated and technically challenging each piece becomes during the creative process, the more he enjoys it. This may be due to his background as a print-maker who is familiar with complex production procedures. Moreover, it also stems from Prawat's nature as a conceptual artist who dares to take risks and to experiment with something really innovative.