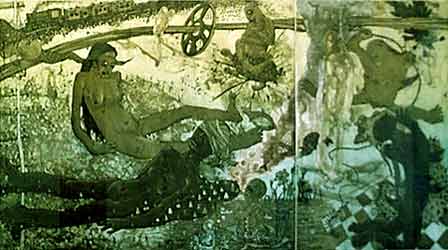 2nd Prize Sanjiv Kishor Goutam, India
Accident
100 x 50 cm., Etching and aquatint

Concept :
This is my perspective on the world that inevitably changes.
I have a point to make about the eorld's reality of fantasy.
So this time I express my artistic sentiments through my artwork based on the theme-
"Eye On The World". In my childhood, I fancied pursuing art by shaping paper boats, staring at magnificent rainbow butterflies and amusing myself. This art pursuit is still continuing today but the extemal elements have been with sentimental complications. Now it has become the subject matter of art pursuit.
It is my presumption that my sensitivity to work express inner feelings of a common man, his broken expectations, desires, ignoring the muted relationship, hatred have torn off the faith in human relationship into fragments. My painting reflects the inner feeling in various forms in continuity. It reminds me that I am an introvert.
As regards my academic career, I am determined to pursue the graphic art after passing BFA degree in painting and later study MFA course. I have worked preparing etching lithograph, dry point, lino cut mini and full-size plates. These works are expression of heart felt feelings transformed to figurative and abstract in traditional and experimental methods. It is my future plan to revive the painting and etching work in new perspective and style though different dimensions of art.