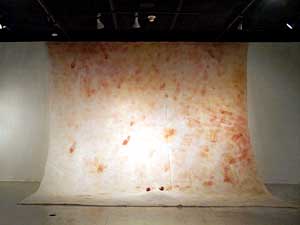 Wanwarang Lekutai
Next Stop First Step No. 2, 2002
Polyester, rubber and powder colour, 525 x 257 x 370 cm.
CONCEPT
I would like to present my installation art under the title name Girls' Shadow, Next Stop First Step, Girl's Feeling in Each Second and Hear the Silence all about divergent problems of human behavior in our existing society which seems to be such a cruel violation of child human rights. Children have become the victims of those with abnormal behavior in the present situation, especially the girls who have been brutally treated as sexual material. Ruthless treatment including the rape of children, abuse and holding children for prostitution are significant problems in the present society. My current work is inspired by this deep and serious problem.