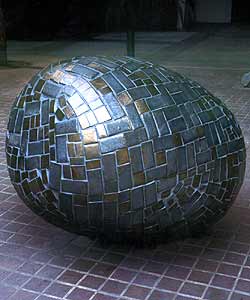 Thai Art, 2003, Fired clay and cement
80 x 80 x 120 cm.
SUROJANA SETHABUTRA
Project Titled : The Origins of Thai Contemporary Arts
Concept
Though being a Westerner, Prof. Silpa had a profound understanding on the uniqueness of Thai traditional art. He, therefore, wished to lay the foundation of art to Thai people, art students and artists through many approaches ranging from writing articles, publishing textbooks, conducting research and one the most important thing is establishing the first university of contemporary art in Thailand, the Silpakorn University. The development in Thai contemporary arts began with painting and sculpture, moved on to graphic arts and Thai arts, and, in the present time, mixed media, a new comer department which is in a developing process. It is clear that the profound understanding in the Thai ways of art and living of Prof. Silpa Bhirasri had reflection on his great intention and aspiration, and, marked the origins of Thai contemporary arts since then.