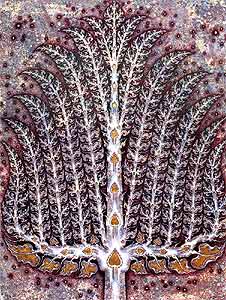 Universe, 2003, Acrylic and gold-leaf on canvas, 150 x 120 cm.
ALONGKORN LAUWATTANA
Project Titled : White, Grey, Gold and White, Grey, Silver
Concept
My expression of Thai contemporary painting is presented in the issues of religious belief, experience and many events in nowadays. As this pattern of art creation, grey is compared t be moderate practice, balance which mixed with various colours ; grey - brown, grey - green, grey - blue, grey - red, but not for white and black. Especially, white means to pureness, brilliancy, knowledge, distinctness, moreover, gold and silver mean to belief and profound fait.
I prefer to use white, grey, gold referring to several meanings such as truthfulness and symbo in the characteristic of applied Thai traditional painting the narration and the present record of events.