Hans Georg Berger
Community Involvement
The Thai Experience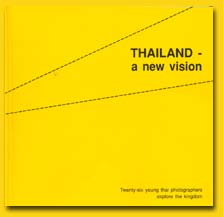 The richness, strength and diversity of culture and of cultural traditions alive in the Kingdom of Thailand have often been overlooked.
In recent years, there has been, especially in the younger generation of Thais, a growing interest in this culture and in these traditions, as opposed to the cultural and economic globalization. Young urban Thais are beginning to search and rediscover their family roots, to question their families' origins and to reflect upon patterns of behavior and values which they feel to be important for their present lives and for their future.

This book presents the vision 26 young Thai photographers have of their country and of aspects of its different cultures. For three years, each of the photographers has followed an individual project of photography linked to people and circumstances he/she was interested in exploring. Their working methods are based on an artistic concept called "Community Involvement" which aims at including the subjects of the photography in the creative process organized by the photographer.
The photographers' origins, and their project locations, cover nearly all of Thailand - from Chiang Maiand Sukhothai in the North to Songkhla and Nakhon Si Thammarat in the South; from Bangkok to Yasothon, Ubon, Nakhon Ratchasima and Surin in the North-East (Isan). They touch upon the hilltribes of the North and the fishermen of the Andaman Sea; upon the rural culture of Isan and the city-life of Bangkok; and upon Buddhist, Taoist, Confucian and Muslim traditions. But first and foremost they are all contemporary visions. The young photographers, now in their twenties or early thirties, are doing work representing the feelings and attitudes of their age groups which reflect the antagonisms, questions, hopes and fears shared by all. Each photographer speaks in his or her own photographic language with different shades of intensity.
There is, I believe, an overall freshness, an originality and a positive self-assurance that are common to these works and make them interesting beyond Thailand's borders. The title of this book says "A New Vision" of the Kingdom. For three years, while closely following the photographer's work, the title had remained a question mark for me. After having seen the project's outcome and assisted, with my colleague Silke Helmerdig, in the final selection process, I feel this is no more the case. There is no doubt about the seriousness, originality and value of this artistic experience.

Community Involvement is a new method of constructing an artistic photographic experience. Its essence is the creation of an almost intimate relationship between the photographer and the people he or she wishes to portray. Through the progression of the creative process the subjects become, in the ideal case, artists themselves. It is the subject who judges the quality of the photographer's pictures, their accurateness - their "truth". It is the subject who teaches the photographer where to look, what is important to show, what the meaning of the action witnessed is. The subject tells the photographer the story behind a face, behind a person's behavior and action. The photographer in this way progressively abandons the role of an outsider and gives up his outsider's view. Rather than catching by chance a glimpse of the ìexoticî and ìcuriousî life of others, he becomes, through learning and understanding, part of the social group that is the centre of interest of the project.

This process requires time, time to establish mutual confidence, trust and respect. It excludesì snapshotsî and pictures taken without the subject's knowledge; pictures taken only for the sake of being visually striking and captivating. Community Involvement transforms the lonely hunter of images
and countless impressions into a knowledgeable, carefully planning and reflective element of a system of communication centered around photography.
Of course, the photographer will touch upon the social condition of his subjects, on their special relation to the world, their personal and collective histories, beliefs and religions. He /she will also try to relate to their concept of visual representation - a most interesting and fascinating quality for anyone caring about more than the technical aspects of images produced with a camera. The photographer
becomes, in short, an anthropologist, a social worker, a historian of religions, an ethnologist. In the best of cases, the images produced will give a skillfully negotiated and controlled representation of a particular world and its inhabitants. It will reflect a unique communication process, set in a clearly
defined moment.

This process is art, because it is original, because it cannot be repeated, because it has an evocative strength - and above all because it has stimulated and freed the capacity for creation and reflection, which exists in every human being. Subtleness, intellectual openness, learning, curiosity, surprise and astonishment all join together to create ìphotographic imagesî - a set, a series, a corpus, an oeuvre - or, occasionally, only one, single great image that pulls together the effort into one convincing and definite expression.

Community Involvement draws from Joseph Beuysí concept of ìSocial Sculptureî, widely considered as one of the most revolutionary ideas on art formulated in the West towards the end of the 20th century. Beuysí intellectual audacity and his great art have been an inexhaustible source of inspiration to artists all over the world; Community Involvement is an adaptation of his ideas in the field of photography. I have formulated and experienced the principles of this method of photography in the course of an art project organized in Luang Prabang, Laos, from 1994 to 1998. With the help and involvement of the people of Luang Prabang, I undertook an exhaustive survey and documentation of their sacred rituals and monastic life. This experience, as an example of concept and method, has been the starting point of all the projects carried out by the 26 young Thai photographers represented here.
Community Involvement, as a concept, has been at the forefront of their projects, with each photographer using it in his or her own particular way and intensity. The happiest and most successful applications created a strong link between the photographers and their subjects; the majority of these projects will continue after the publication of this book. This is the case of the works of Chutiporn Boonrarungrod (the vanishing art of Isan puppeteers); Thannawat Katanyoo (portraits of a boy and a girl from the White Hmong minority); Tikamporn Rucrong (a community of Muslim fishermen and their changing environment); Rapee Chevasaro (the making of palm-sugar); Kittirat Sarndang, who became part of a famous Bangkok theatre troupe; and Narissara Rongruanrit, who entered the life of silk-weaving women in Isan. Concentrating on ritual aspects of Thai-Chinese culture during the cremation ceremonies for his father, Kachaphat Kulthavarakorn, in a moving and convincing way, applied this method to his own experience as a son in mourning. Pongsatat Uaiklang, a sculptor now living in Bangkok, had his ordination as a monk in his native Isan-village photographed by a family member, as he could not take the photographs himself: the religious and social context allowed the photography to be an integral part of the ritual. A formal specialty is shown in Pariwat Hamit's dreamlike pictures of life on his khlong (canal) in Bangkok, taken with a self-made pinhole-camera. Prussanee Laongthong compares festivals near her house in suburban Bangkok to a noisy "event" recently organized at Sanam Luang - her criticism is subtle, but clear and unequivocal. Also on Sanam Luang, in the heart of historical Bangkok, Yuvana Poonwattanawit followed and made friends with
homeless people. Poom Narischat documented Buddhist rituals in one of the ethnic minorities in northern Thailand for several years; for his project he selected the festive procession of novices. Four photographers made themselves and their surroundings the theme of their work. Pasut Kranrattanasuit depicts himself as an artist with his artist friends; Sittidech Rohitasuk mounts self-portraits in collages where Mickey Mouse triumphs over the Thai elephant; Deddeow Laosinchai shows himself wand r about a hostile city after dark; Niwat Thongklieaw combines neat self-portraits with astonishing landscapes. Niwat is a special case: he is from one of the least developed parts of Thailand, the province of Ubon, near the borders to Laos and Cambodia. He is an autodidact; the only one in the group, without an academic education. Pattarin Chanin-ahrak uses black-and-white and color photographs to portray kite-makers and kite flying in Bangkok, one of the national sports. Witsanupong Sueyroop, has had all his life a fascination for elephants and their relationships with humans. The works of Kasalong Kumjing, Pradit Songmuang and Jitlada Mooumpun represent provincial communities in Chachoeng Sao, Yasothon and Nakhon Ratchasima provinces: for the purpose of this book we have chosen photographs of objects representing these communities. Chuchanok Chandakul loves being on the move and has photographed and interviewed people on trains between Bangkok and Chiang Mai. Penkhae Pengya, in her search for the true Thai face, came a long distance from simple and accurate portraits in the early phase of her work to double-exposures and technically transformed faces at the end. Nuchanart Jaiklar's photograph of a fisherman changing the
name of his boat to Thongdaeng bears allusion to a recent book written by the revered King of Thailand; a parable with clear and important messages which are needed to be heard and heeded during a time of profound changes and uncertainties in Thai culture and society. Uthaiwan Boonloy's fine black-and-white portraits of Thai people include a well-composed portrait of the great avant-garde writer Rong Wongsawan. An amazing emptiness and terrifying coldness fill the unusual images of Sahaporn Noiyoo, who followed -and lost-, the girl he loves, between Nonthaburi and Ta Chang, in Bangkok.
A three-year university course has served as the basis for the young photographer's works. It was organized by Silpakorn University Art Centre, Bangkok, in close collaboration with DAAD, the Embassy of Germany, Goethe Institut Inter Nationes and 13 Universities and Art Schools from different parts of Thailand. Originally 50 students were chosen to participate in the course and to present individual projects (a documentation of these projects has been published in 2002 under the title ìA Closer Look at the Elephant's Headî). After three years of work, twenty-six people were chosen to participate in an exhibition at Silpakorn Art Centre in February 2003. Photographer Silke Helmerdig (Berlin), DAAD lecturer, and art critic Christian Caujolle (Paris) have been precious co-teachers, the latter with a grant by AFAA and the French Embassy in Bangkok.

Ajan Kanokwan Rittipairoj accompanied the project as a translator. How much we all are indebted to her for her precision, intelligence and continuity is easy to understand; she managed to make two
very different worlds meet and relate to each other. The course would not have been possible without the encouragement of my dear friends, Ajan Surapon Saenkum, Ajan Thanee Klingkajorn, and Ajan Neungreudee Lohapon who, in 1998, presented me and my teaching project to Prof. Vichoke Mukdamanee, the Director of Silpakorn Art Centre. It was Ajan Vichoke's idea to extend an invitation
to universities all over Thailand to participate in the course, thus making it a nation-wide project on photography, the first of its kind in Thailand. His enthusiasm and resourceful creativeness, together with the inexhaustible kindness of Khun Saismorn Surasaeng, the project organizer, and of all his
staff, has guaranteed, over the course of three years, the development of an unusual experiment both in photography and in teaching.