Recent Works
Within a movement there is stillness.
Within stillness there is movement.
My works may change from those created in the past or, may turn to resemble them as time passes by, like the statements above.
This is probably the fruit of a habit of mine.
Some of my works seem to refiect feelings or memories of events and time that have already passed.
Some of the works seem to reflect my feelings right here, at the moment.
To find sentences to write about one's own works is rather difficult.
The abstraction of the works has no beginning and has no end.
I truly believe that my works will somehow be able to communicate with the viewers.
Somboon Hormtientong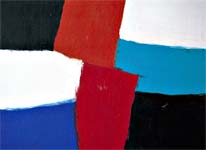 [ Invitation card ]