Hotel Art Fair 2014
on May 23-25, 2014
at Luxx XL Hotel, Soi Lang Suan, Ploenchit Rd., Bangkok, Thailand
------------------------------

Now entering its second year, the Hotel Art Fair 2014 is gaining credence as a rallying event for domestic galleries to showcase their artistic talent and broaden public awareness towards contemporary art. Last year's inaugural fair took place at the Maduzi Hotel, with the generously sized suites and minimal modern decor being well suited to hosting art. Political rallying permitting, this year the site has switched to the LUXX XL on Lang Suan, another boutique modern space that should comfortably accommodate the weekend-long influx of galleries, art industry affiliates, and curious public.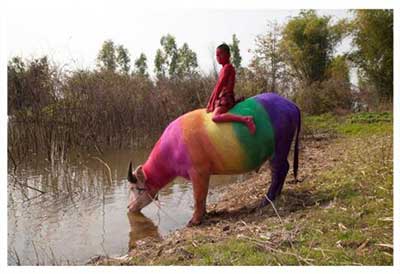 To the unfamiliar, a typical hotel art fair comprises a gallery occupying a room or suite and installing their art by propping and placing two and three-dimensional works on any available mantle. Firmly at the commercial end of viewing platforms for art, part of the appeal for hotel-based fairs is the selected art is installed in a manner conducive to how it will look when hung at home.

Organised by the creative design consultancy Farmgroup with well-known artist Top Changtrakul at the helm, the event takes place over the weekend of May 23-25. The Fair is spread over two floors with several of Bangkok's most reputable galleries participating, as well as guest curator rooms and private collections from celebrities.