The 20th Art Competition of Petroleum Authority of Thailand by PTT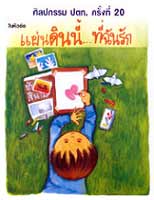 PTT Public Company invite young artists and the general public to take part in the 20th PTT art competition. The theme this year is "Phan Din Nee...Tee Chan Lak" (The land is my love).
This competition devided in 4 categories of candidates:
1. Painting
2. Sculpture
3. Graphic Arts
4. Art Creation
Entrants should send up to three pieces of art to Silpakorn's Art Centre, Na Pra Lan Road.
For more information, call 02-221-3841 or 02-537-2156.
Close