Bangkok BRT Contest
Put Your Colors on Bangkok BRT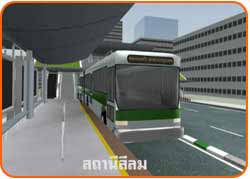 Bangkok BRT is project of Bangkok adminster. It is convenient to transport people in Bangkok and Perimeter. So we would like to publication Bangkok BRT and make people feel owner of it and join design contest "Put Your Colors on Bangkok BRT" win design will be use to Bangkok BRT.
:: Qualifications ::
Students are studding in Bangkok and Perimeter.
:: Art Works Character ::
1. Background color is yellow and design with green: yellow y = 100 green c = 62, m = 26, y = 90, k = 11
2. Bring some character or logo of project creates on body of Bangkok BRT
3. Show about convenient, fast, safe and high tech.
4. Create on A3, manage in CD
5. All design has to explain meaning clearly and useful to project
Date of Submit : 16 July 2007
:: Prizes ::
First prize 50,000 baht and certificate
Second prize 30,000 baht and certificate
T hird prize 20,000 baht and certificate
For more information visit www.bangkokbrt.com