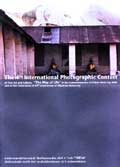 Silpakorn University, in cooperation with, the Photography Association of Thailand under the Royal Patronage of His Majesty the King and the Narisaranwattiwongse Foundation pleasantly prepare to organize the 4th International Photographic Contest of Thai Art and Culture: "The Way of life" in the Commemoration of Prince Naris Day 2008 and on the Celebration of 65th Anniversary of Silpakorn University in the coming year.
For submission of photographic entries, the photographs can be:
Sent by Mail between February 14 – 20, 2008 to Public Relation office, Office of the President Silpakorn University 22 Borommarachachonni Road, Talingchan District Bangkok 10170.
Or delivered by Hand between February 20 – 22, 2008
(Including official holiday) 9.00 a.m. – 4.00 p.m. At Lancharn Room, L Floor Office of the President, Silpakorn University (the same address above).
For further information, please contact: Public Relations Office,
Silpakorn University, 22 Borommarachachonni Road, Talingchan District, Bangkok 10170
Tel: +66 02 880-7730 Fax: +66 02 880-7830
E-mail: su-pr@su.ac.th
Download for Entries Application: www.su.ac.th