.

Manit
Sriwanichpoom

Artist born in 1961.
Lives and works in Bangkok.
Group exhibitions incldue :
the First Fukuoka Asian Art Triennale, Fukuoka, Japan 1999; XXIV Bienal International de Sao Paulo, Brazil 1998; Souvenirs, London 1998; Contemporary Color Photography in Bangkok from Asia, the Photographic Resource Center, Boston USA 1998; Asia City, The Photographers' Gallery, London 1998; Photographies des 3 Continents, Nantes, France 1997; Asiatica, Phnom Penh, Cambodia 1997; One day of my life in a box, Bangkok and Germany 1996-97.
Film and video art includes: Pink Man on Tour, VDO art 1998; Uk-ka-bat (meteorite), 16mm experimental film 1995; Land of Laugh, 16mm experimental film 1992.
This bloodless war in Gavroche magazine.
Light boxes
Shopping mall, Central Rama III.
Framed photographs.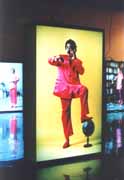 Shocking Pink Collection, 1998