.

Lee Bul

Artist born in 1964 in Yongwol, South Korea.
Lives and works in Seoul, South Korea.
Solo exhibition include :
Projects, Museum of Modern Art, New York, USA 1997 ; step by step, Th-that's..., II Gallery, Seoul, South Korea 1988.
Group exhibition include :
Fast Forward, The Power Plant Contemporary Art Centre, Toronto, Canada 1997 ; Join Me! Spiral/Wacoal Art Centre, Tokyo, Japan 1996.
Poster/image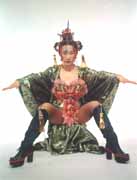 Portrait for Hydra II (Monument), 1999