Viengtavern gallery has founded in 1997 to present oriental and sacred art, and to promote participation of Thai audiences in art appreciation. At the beginning, Viengtavern was a framing workshop for art works and decorative objects. During the time, founders have learned deeper and deeper about art business in Thailand, and prepared for an establishment. Eventually, in 1999, The first collection house has been opened at Central City Bangna for a year before an opening of Viengtavern gallery on Asoke road in November 2000.
Otherwise, Viengtavern gallery has also been trying an experiment with a new concept of art business in Thailand. The gallery is under management of advisory boards who an art instructor, artist, art representative. The board is to stipulate trend of exhibitions and activities, and to review artist portfolio. Director of the gallery performs as secretary to advisory boards and takes responsibility on business management. Under the new concept, moreover, Viengtavern has established membership of gallery whom uniting as supporters. Undeniably, art and culture business in Thailand which social services could hardly grow steadily without external supports.
The gallery has scheduled about 10 - 15 exhibitions a year. 35% of exhibitions each year are organized by gallery ourselves, otherwise is open widely for artists to submit for their shows. However, 5% of exhibitions each year are reserved for public services and welfare. Furthermore, "art and its alternatives courses" is also providing. The courses are including with painting, print, photography, sculpture, illustration, etc.
In 2001, Viengtavern art society plans to have homepage which to inform publics both domestic and international on exhibitions and activities news, artists database and else.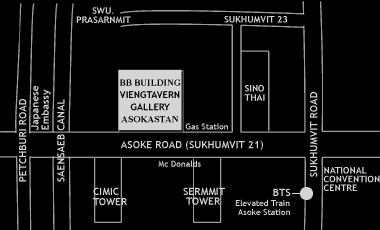 Address: 54 BB Bld., 2 Fl.,
Asoke, Sukhumvit 21,
Bangkok 10110 Thailand
Tel/Fax: (66 2) 664 3875
E-mail: viengtavern@hotmail.com