3. All works must have been completed after 2001 and must never have received previous awards.
4. All works must be created and signed by the artist him/herself.
5. For the Print category, all techniques, whether single or multiple utilization, including monoprints will be accepted.
6. For the Drawing category, all techniques and combinations, including the following media: charcoal, pencil, ink, pastel, crayon, pen, etc., will be accepted.
7. A size of the paper should not exceed 80 x 120 cm.
8. Submission must be postmarked no earlier than March 1st and no later than April 30th, 2003, and should be sent to: International Print and Drawing Exhibition on the occasion of Celebration the 60th Anniversary of Silpakorn University, Thailand
L Floor, Office of the President, Silpakorn University.
22 Borommarachachonnani Road, Taling Chan Distric, Bangkok 10170, Thailand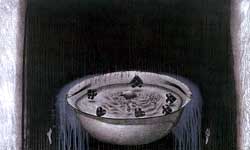 SUBMISSION FOR FINAL SCREENING
1. Artists who pass the initial screening will be required to submit their original works by June 30th ,2003.
2. Overseas residents must submit their original works to the university (same address as for submission for the initial screening) by airmail only. Works should not be framed. They should be encased in plastic/cardboard rolls and posted without insurance. "Printed Matter" should be written on the cardboard roll. The weight of the work and packaging shall not exceed 2 kilograms (4.4 pounds) and the length of the cardboard roll shall not exceed 95 cm.
3. Thai residents must submit their works on June 23rd-30th ,2003, including public holidays, from 09.00 a.m.-05.00 p.m at the Office of the President, Silpakorn University
22 Boromarachachonnani Road, Taling Chan District, Bangkok10170, Thailand
4. The university will do the framing for all works.
5. The organizer will not be responsible for any loss or damage of any kind of works during shipping and handling to and from the exhibition.