Modern art in Thailand has not been around as long as in Western countries, but the Thai creative arts have existed for centuries. Thai traditional painting, for example, has a history dating back more than 800 years, and today's Thai painting is often based on the ancient traditions.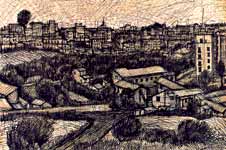 Silpakorn University, Thailand's first fine arts university, was established in 1943 by Silpa Bhirasri (Professor Corrado Feroci), an Italian artist who came to Thailand in 1923 at the request of King Rama VI. The establishment of the new university marked the beginning of modern art in the region, and the start of the Thai art scene's rise to international standards. The university was the country's first institution to offer a program in printmaking. It was instrumental in establishing the print category at The National Art Exhibition an annual event which celebrated its 48th anniversary this year. Begun by Prof.Bhirasri in 1949, The National Art Exhibition, awarded its first printmaking prizes at the 12th annual competition in 1961.
The print works displayed over the years have received a tremendous amount of interest and attention. This has encouraged artists and professors at Silpakorn University to raise the level of their teaching and their artistic output, and as a result, a number of local printmakers today enjoy a reputation that extends far beyond the borders of Thailand.
Today, modern Thai art has improved to the extent that it can compete with art from other countries around the globe. Thai printmakers especially have been nominated for and awarded prestigious prizes at international exhibitions in Europe, America and Asia. These exhibitions have provided a forum where Thailand can demonstrate people's competence to the world and where Thai artists can interact with artists from other cultures all around the world.
With our experience and expertise, Silpakorn University is sponsoring The International Print and Drawing Exhibition to celebrate 60th anniversary of the university's founding. This exhibition will offer Thai and foreign artists an opportunity to display their most recent works. It will also promote artistic creativity and an exchange of cultures among people from countries throughout not only the region, but the world.