Six of Thailand's most exciting and respected artists Kamin Lertchaiprasert, Natee Utarit, Niti Wattuya, Pinaree Sanpitak, Surojana Sethabutra and Vasan Sitthiket make up Thai Contemporary The selected works represent an aspect of the nation's social and political zeilgeist. Like many ASEAN countries, Thailand is fighting to stay afloat in the face of overpowering currents of rapid urbanization, the ailing economy and ongoing sociopolitical scandals and upheavals. As such, the contemporary art of Thailand has facets that may be baffling and intriguing from an outsider's viewpoint.
In translating foreign languages, what matters is for the essence of the message to be conveyed although its precise cultural significance and structure may seem ambiguous. Similarly, Thai art resonates with silent strength while its social and cultural context may not seem immediately clear. The traditional values and contemporary realities which we share in Southeast Asia are a key to a further, heightened sensitivity we feel in each other's work.
What makes Thai art distinctive is its poise. As Thai culture and tradition are deeply rooted in the Buddhist religion, the manner in which its artists balance underlying anguish and turmoil with control and elusion sets them apart. One of Thailand's most beloved artists, the late Montien Boonma's work is the personification of Buddhist teaching of endurance and strength through restraint. His sculptures and installations, quietly elegant and beau
tiful while appearing withdrawn and evasive, belie an intense emotional turbulence and suffering brought about by the loss of his wife.
In different ways, this ethos can be seen practiced by Niti Wattuya and Natee Utarit. The beautifully stained gold of Niti Wattuya's arresting Buddha Image series (2001) forms a loaded message as he combines the sacred image and colour with its modern day signifier for greed and materialism The beauty of the tranquil faces seduces, while criticizing the erosion of values and moral corruption in Thai society in its obsessive quest for material wealth and success.
Meanwhile, in Natee Utarit's reinterpretation of Goya's The Sleep of Reason Produces Monsters as a series of the same name (2001), the artist furthers his exploration into the idea of "paintings as objects." By treating his work as a "conduit between seen and unseen realities", the works, seemingly distant and devoid of personal emotion, are deeply evocative and powerful, compelling us to form an intimate narrative or "mental image of reality"i. Having examined the changing realities and ideals in the history of European landscape painting, this series begins a dialogue with classical and Romantic allegory. Natee is one of Thailand's most challenging painters from her emerging contemporary generation, and certainly one of her most enigmatic.
The key role Kamin Lertchaiprasert and Vasan Sitthiket have played in redetining the development of Thai contemporary art has earned them numerous accolades and interna
tional recognition. Noted for the controversial themes they have boldly addressed at a time when most artists were concerned with 'bank art'ii, these artists have been applauded for providing Thai art with an alternative voice, one that closely reflects the reality of their times.
Notorious for his outspoken comments on political discontent and the degeneration of traditional values in Thai society, Vasan is an active artist-poet as well as a social and political activist. A crusader for the agrarian cause, Comes from earth, Lives on earth and Returns to earth from his Farmers are Farmers (1998) series, brings to our attention the plight of the farmers, where urban migration and rapid technological development have almost rendered their existence obsolete. The seven portraits, representing the days of the week, made with acrylic and clay from Nonsawang village in Khon Kaen once a thriving rice village pay homage to the "backbone of the Thai nation", a reminder to all of the significance of the farmers and rice in their life and history.
Kamin's Thai Painting (1991) refers to the Thai alphabet and motifs relating to cultural roots. The letters of the alphabet are reinterpreted in such a way that speech sounds and images form chains of association in the viewer's mindiii Working in a wide range of media such as etching, painting, photography and with installation arts; his art is closely related to his lived experience. Drawing on personal history, ideas and beliefs, his identity as a Thai of Chinese parentage adds further complexity to his work. His latest series The Ordinary Man Is A Buddha. Passion Is Bodhi (The Wisdom Of Enlightenment) (2001) is inspired by the teachings of Voi Lang. The photo silk screened series depicts the artist seeking a dialogue with Buddha at four different stages of his life using mural paintings in the Grand Palace. So profoundly affected by the philosophy of Buddhism, this series aptly reflects the artist's ongoing search for answers and solace through religion in the contemporary world.
Prominent Thai female artist Pinaree Sanpitak expiores the identity and subject of a woman's body. In Womanly Bodies (1999), a series of geometrical prints where breasts, the womb, and the female torso have been reduced and minimalised to their basic primeval geometrical outline They resemble and allude to the metaphor of a vessel. By appearing abstract and hollow, these minimal female forms question the symbol of fertility and maternity.
The existence of craft has maintained a strong presence in the Thai cultural landscape. An unique ability to bridge the gap between contemporary art and craft is beautifully epitomized in Suroiana Sethabutra's vessels. As Thailand' s only active female ceramicist, her Thai and American training sees marriage between fine traditional craftsmanship and current artistic concepts. Through her innovative use of materials and forms, her work highlights two prevailing elements in Thai art making - gentleness and resilience.
Adeline Ooi, Curator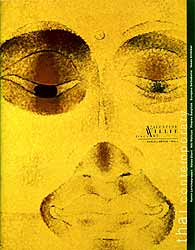 Catalogue
i Natee Utarit, Artist Statement, 2001.
ii Apinan Poshyananda, Behind Thai Smiles, Art and Asia Pacific, sample issue 1993, pg 40. It is a term coined by the author to describe the decorative and propaganda works to promote cultural homogeneity which dominated commercial galleries and national art competitions organised by local banking corporation during the economic boom
iii Thai alphabets are phonetic symbols distinguished from those that are ideographic or pictorial. In Thai children's books, precise images and rhymes are fixed for each letter By relating those speech sounds and images, Kamin has reinterpreted fourty-four Thai letters so that they refer to the primordial experience of children when they begin to read and write