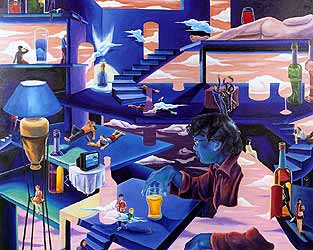 Jedsada Junjarungjit
"Sameejua" in Shades of Blue, Oil on canvas, 155x190 cm.
Concept
People in Thai society co-exist in harmonious, kindness and helping each-other. In many traditional celebrations, like a wedding reception, people would get together and get drunk that become materialism way of life. Also, when somebody is drunk, he would behave strangely from usual. I want to represent these unusual activities and the misbehave of the drunkens, which to me are very impressive.